Wyoming Motorcycle Safety Laws
April 26, 2012
---
Motorcycle Accident Lawyers
Traveling through Wyoming on route to the Sturgis Motorcyle Rally? Wyoming with its majestic Rocky Mountains and wide-open plains provide stunning scenery for bikers. Yellowstone National Park, Grand Teton National Park, and Devils Tower National Monument are just a few of the breathtaking sites available to bikers in Wyoming. Each year, hundreds of thousands of motorcyclists are drawn to the Black Hills for the well-known Sturgis Motorcycle Rally and to Wyoming. In order to enjoy all that Wyoming has to offer when you are at Sturgis, motorcyclists must follow Wyoming motorcycle safety laws.
Following are some of Wyoming's motorcycle laws, obtained from the Wyoming Department of Transportation (WYDOT) and the American Motorcycle Association (AMA):
Helmets are not required in Wyoming for motorcycle passengers or operators 18 or older.
Daytime running headlights are required by law in Wyoming, but modulating headlights are permitted.
There are no age restrictions for motorcycle passengers, but motorcycles carrying passengers must be equipped with a passenger seat large enough to accommodate passenger without crowding and foot pegs.
Required motorcycle equipment includes a minimum of one mirror, a muffler & handgrips on handlebars must be below shoulder height.
In Wyoming, it is permissible for motorcyclists to ride with a maximum of two motorcycles abreast in same lane.
Lane splitting is prohibited in Wyoming.
Motorcyclists may not ride in the same lane with another motor vehicle when overtaking that vehicle, unless the vehicle being overtaken is another motorcycle.
When overtaking another motorcycle in the same lane of traffic, motorcycle operators must first match the speed of the motorcycle being overtaken.
Wyoming has adopted a modified comparative fault rule. Under this rule, individuals may not recover damages from an accident if they were 51% or more at fault for the accident. If a driver is 50% or less at fault for an accident, the recovery will be reduced based upon the driver's percentage of fault. Because of this, if you have been injured in a Wyoming motorcycle accident, it is often necessary to hire an experienced Wyoming motorcycle lawyer in order to receive fair compensation for your injuries and other damages.
Russ Brown Motorcycle Attorneys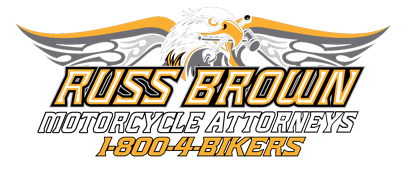 1-800-4-BIKERS http://www.russbrown.com
Last Modified: 05-2-2012-08:42:49
Back To News